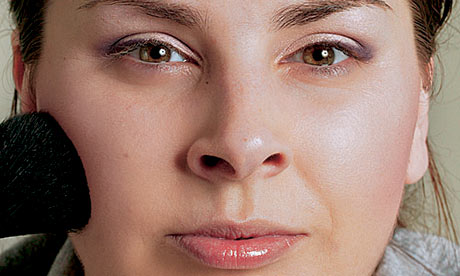 Lauren Luke is another rather unlikely celebrity. However, the 27-year-old single mother has recently found herself catapulted to global fame for all the right reasons. Lauren's amateur make-up tutorial videos currently have over 55 million hits on YouTube, earning her the title of 'the most viewed make-up artist in the world'. But this world-wide success has not gone straight to her head: she still lives in her humble hometown of Newcastle, with her 11-year-old son and her five dogs.
Three years ago, Lauren was unhappy and, with no qualifications after dropping out of school early, working at a taxi office. But she decided to quit her job and begin her own home business, selling beauty products on eBay. Soon, buyers were requesting tips on how to apply their products, so, just two years ago, a visibly nervous Lauren uploaded her very first video: an extremely basic cosmetics tutorial with very little conversation. But there was obviously a demand for such a service, because over 45,000 watched it. Soon, other YouTube users requested celebrity looks and ratings rapidly escalated, the most popular broadcast to date being a Leona Lewis inspired look with over 2.5 million hits, closely followed by Lady Gaga, Kylie, Amy Winehouse, Britney, Rihanna and Angelina Jolie, to name but a few. But it's not just the big names that draw people to Lauren's tutorials; they are utterly charming, genuinely helpful and strangely addictive.
The world's media has also embraced her whole-heartedly, with Elle, Vanity Fair and Look magazine featuring Lauren's story. The BBC recently broadcast a documentary, tracking her rise to fame, and she has been interviewed for channels all across the world. Whilst this global success has not yet brought riches, it has welcomed a plethora of other business deals, such as exclusive video tutorials sponsored by Barry M and the Guardian, her own weekly beauty column, a Nintendo DS game and a beauty book due to be published by Hodder & Stoughton in October.
Filmed sitting on her bedroom floor, with her pug dog snoring heavily in the background, Lauren's informal chats to camera are usually upbeat, light-hearted, honest and endearing but are also often personal and heartfelt, as she talks about her painful childhood and crippling low self-esteem. She explains that she enjoys using vibrant make-up as a form of self-expression and escapism and that she has always dreamed of having her own make-up range. Well, now her dream has come true. Now, By Lauren Luke is available to order from anywhere on the planet. Each of five palettes (Luscious Greens, Fierce Violets, Sultry Blues, Vintage Glams and Vintage Classics) contain a concealer, a primer, a gel eye liner, two lip colours, two eye shadows, a highlighter and a blush, to suit all skin tones, eye colours and budgets. What's more, they're all free from animal testing.
Lauren also said that she wanted to make 'a huge change to the make-up industry'. And as a totally grounded, 'average sized, normal looking' woman, penetrating a world with an homogenous idea of beauty, Lauren Luke has certainly done that.